Chili cheese fries are a popular American dish typically consisting of French fries topped with chili con carne and melted cheese. This savory and indulgent combination of flavors has made chili cheese fries a staple at fast food restaurants, diners, and sports bars nationwide. Wendy's chili cheese fries dish is popular for its taste and versatility. It can be served as a quick snack or a hearty meal and is often a favorite among sports fans and late-night eaters. Chili cheese fries have become so famous that they have spawned variations and spin-offs, including chili cheese tater tots and nachos. Peri-Peri Guys Wendy's chili cheese fries are a true comfort food perfect for satisfying your cravings and indulging in a guilty pleasure.
How to Make Wendy's Chili Cheese Fries at Home?
Wendy's Chili cheese fries are a delicious and satisfying comfort food that can be made easily. Wash and peel 2-3 large potatoes to make chili cheese fries at home. Soak them in cold water for 30 minutes after cutting them into thin pieces. After that, pat them dry and fry them in a deep fryer or a pot filled with oil until golden brown and crispy. In a separate pan, brown 1 lb of ground beef and add 1 diced onion, 1 minced garlic clove, 1 tablespoon of chili powder, and 1 teaspoon of cumin. Stir in a can of diced tomatoes, 1 can of kidney beans, and 1 cup of beef broth. Cook for 15-20 minutes, or until the flavors have mingled. Once finished, top the fries with chili, shredded cheese, and sliced green onions. Serve right away and enjoy!
Vegetarian Chili Cheese Fries Options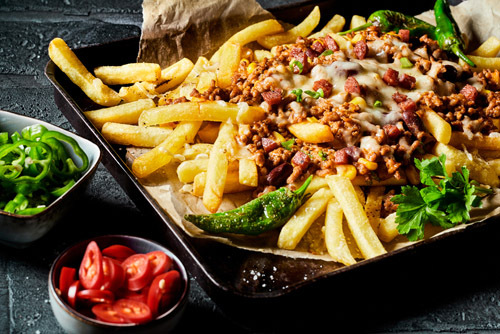 Vegetarian chili cheese fries are a variation of the classic chili cheese fries dish that replaces the traditional beef chili with a meatless alternative. Alternatively, skip the meat substitute altogether and add extra beans for protein. While the traditional recipe calls for ground beef and beef broth, plenty of delicious substitutes exist. Wash and slice 2-3 large potatoes for the fries, then fry them in a pot or deep fryer until crispy and golden brown. Try using crumbled tofu, tempeh, or a vegetarian ground beef alternative instead of beef for the chili. If you prefer a bean-based chili, try using black or pinto beans for added protein. Add diced tomatoes, onions, garlic, and chili seasonings like chili powder, cumin, and paprika. Once the chili is cooked, top the fries with shredded cheese, diced green onions, and a dollop of sour cream or guacamole for extra flavor. These simple substitutions make for a delicious and satisfying vegetarian chili cheese fries meal. Peri-Peri Guys Wendy's chili cheese fries are the best meal option for healthy food lovers.
Calories in a Serving of Chili Cheese Fries
The calorie content of one serving of chili cheese fries varies based on the size of the serving and the ingredients used in the dish. A serving of Wendy's chili cheese fries can range from 700 to 1,000 calories or more. The fries are usually high in calories as they are deep-fried in oil. The chili can also add significant calories, depending on the type and amount of meat or beans used. Cheese, another calorie-dense ingredient, is often used generously to add flavor and creaminess to the dish. To reduce the calorie count, consider using lower-fat or less cheese overall. Another option is to use sweet potato fries instead of regular fries, which are higher in fiber and lower in calories. While chili cheese fries can be a delicious indulgence, it's important to be mindful of portion sizes and ingredient choices to keep the calorie count in check.
Baked vs. Fried: Which Cooking Method is Best for Chili Cheese Fries?
The cooking method used for Wendy's chili cheese fries can significantly affect their nutritional value and calorie count. Although fried chili cheese fries are popular for their delicious taste, they are generally high in calories and fat due to the deep-frying process. A serving of regular chili cheese fries can contain up to 1,000 calories and 50 grams of fat. Conversely, baked chili cheese fries are considered a healthier alternative. Baking the fries reduces the amount of oil used and can reduce the calorie count by up to 50%. By choosing the baked option, you can still enjoy the mouthwatering flavors of chili cheese fries while consuming fewer calories and less fat.