Soup makers are fantastic kitchen appliances that can help you prepare healthy and delicious soups with minimal effort. Many soup maker recipes are available, each with a unique flavor and texture. For example, you could try a classic tomato soup recipe that combines fresh tomatoes, onions, and garlic with chicken or vegetable broth to create a comforting and flavorful soup. A vegetable soup recipe incorporating potatoes, carrots, and celery can provide a filling and nutritious meal if you want something heartier. Also, soup maker recipes are perfect for making creamy and smooth soups, such as butternut squash or mushroom soup. With so many soup maker recipes, you can enjoy a variety of nutritious and delicious soups that are perfect for any time of year. These easy soup recipes can be made with a few essential ingredients and customized to your liking. They are perfect for a quick and healthy meal anytime. Enjoy!
Benefits of Homemade Soup
Homemade soup is a nutritious and tasty meal that offers several health benefits. Here are some of the benefits of consuming homemade soup:
Incorporates more vegetables into the diet, providing essential vitamins, minerals, and fiber.
Low sodium intake compared to canned or processed soups can help regulate blood pressure and reduce the risk of heart disease.
Allows you to control the quality and quantity of ingredients, making it a healthier and more affordable option than store-bought soups.
Provides hydration to the body, essential for optimal health and well-being.
It can boost the immune system, helping fight infections and illnesses.
Provides a comforting and satisfying meal, helping to reduce stress and promote mental well-being.
It can be easily customized to suit individual tastes and dietary requirements, making it a versatile and flexible meal option.
You should try making healthy soup maker recipes to make your life healthier. Peri-Peri GUYS offers various halal food and healthy food full of benefits.
Butternut Squash Soup with Coconut Milk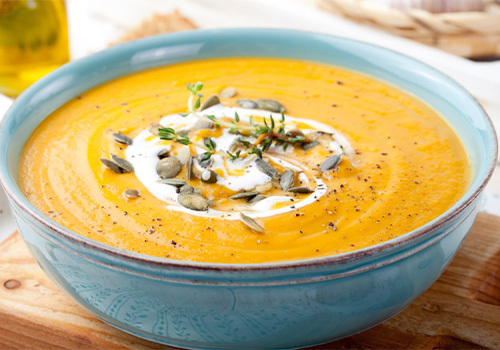 Butternut Squash Soup with Coconut Milk is a creamy and flavorful soup perfect for a chilly evening. The base of the soup is made with roasted butternut squash, onions, and garlic, which are then pureed until smooth. Adding coconut milk adds a creamy texture and sweetness to the soup. Other seasonings, such as ginger, cumin, and cinnamon, can be added to enhance the soup's flavor. This soup is an excellent option for vegetarians and can also be made vegan using vegetable broth instead of chicken broth. It can be a starter or a main course and is a great way to incorporate more vegetables into your diet. Butternut Squash Soup with Coconut Milk is a healthy and delicious option that will satisfy your taste buds. Must try easy soup maker recipes for a delightful taste.
Quick Chicken Noodle Soup Recipe for a Soup Maker Recipes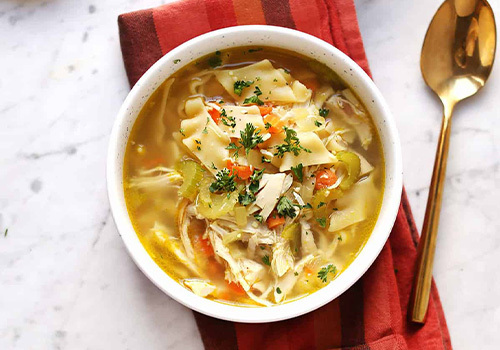 Making chicken noodle soup in a soup maker is quick and easy. First, chop one onion, two celery stalks, and two carrots and add them to the soup maker with two minced garlic cloves. Next, add four cups of chicken broth, one pound of boneless chicken breast, and one cup of egg noodles to the soup maker. Add salt, pepper, and any extra herbs or spices to taste. Close the lid of the soup maker and select the soup setting. Allow the soup maker to cook for 20-25 minutes or until the chicken is cooked through and the noodles are tender. Once the soup is ready, remove the chicken from the soup maker and shred it into small pieces using two forks. Add the shredded chicken back into the soup and serve hot. These quick and easy chicken noodle soup maker recipes are perfect for a comforting meal on a cold day.
Detox Vegetable Soup Recipe for Weight Loss
Vegetable soup maker recipes are full of healthy nutrition. A detox vegetable soup is an excellent option for those looking to lose weight and improve their overall health. Packed with nutrient-dense vegetables and herbs, this soup provides a wide range of vitamins, minerals, and antioxidants that can help support the body's natural detoxification process. To make a detox vegetable soup, start by sautéing onions, garlic, and other vegetables of your choice in a large pot. Add vegetable broth, herbs, and spices, and simmer until the vegetables are tender. Add beans, lentils, or tofu to the soup for added protein. This soup is low in calories and fiber, making it an excellent weight-loss choice. Enjoy a bowl of this delicious soup for lunch or dinner to nourish your body and support your weight loss goals.